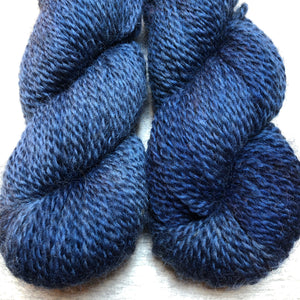 Royal Blue 2 Ply Worsted - Farm Raised Wool
This is farm raised wool from our  Coopworth sheep. It's a non superwash yarn that will felt when not washed properly.
Size:  200 yds./ 4oz.
Content : 100% Coopworth  (non-superwash)
Suggested Needle Size: 7-9 knitting needle
Stitches per inch: 4-5 stitches per inch
Care Instructions:  Hand soak in cold water.  Block and dry.  You don't need to wash this wool a lot.  Maybe 3 times during the winter. 
Tonal- Over Dyed on Grey
This yarn is dyed more tonal. It contains waves of light and dark color.