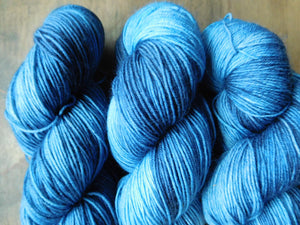 Old Blue
Intimate
This colorway is called intimate because each skein in a batch is slightly different.   
Orli
Orli is a super soft, fine merino nylon blend. We enjoy this yarn for its sheen, smooth feel and durability.  We love how this yarn shows off color.  Because of its 4 ply construction, the stitches show off texture beautifully. 
This fingering/sock weight yarn is great for colorwork and small projects.  It can be used for socks, shawls, light sweaters.
Details:
Size: 464 yd / 4 oz  skeins 
Content: 75% superwash  Merino wool / 25% Nylon
Gauge:Fingering weight. 7-9 stitches per inch on US 0-2. 
Care Instructions: Machine wash gentle. This yarn should be dried flat for best results.